It's time for some inspiration for what to wear for spring family photos! Pin it, share it, tuck it away for our next session, or just ogle and enjoy.
I love the neutral color pallet of blue with crisp white and gray tones but it can look too cool in photos. To warm it up, I added blush as a main color with camel and gold accents, which look fantastic on all skin tones.
Layering is important when choosing what to wear for family photos and it's often overlooked. With the color pallet chosen, I decided to keep the look minimal and go light on layering. For this what to wear, I chose belts and a hat to add extra pop and polish the look.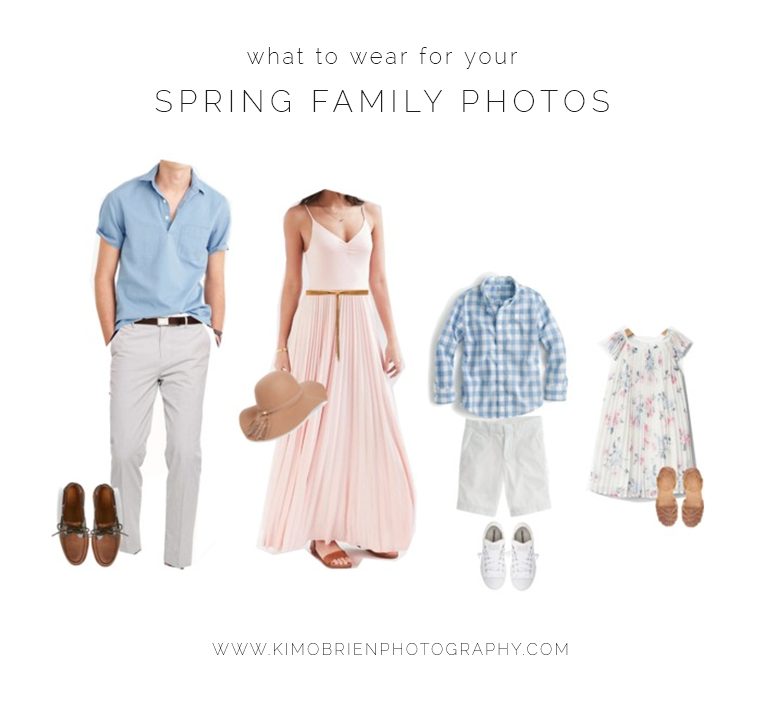 I'm not saying you need to look exactly like this. If you already have ideas, that is perfectly fine. This is meant to be used for inspiration. At the end of the day, it's really not about the clothing. I'm going to be capturing your FAMILY and that's the most important thing. So don't stress, just have fun with it!
For those interested on where I sourced the outfits, if you click the photo above, you will get prices and direct links for each piece.
Want even more inspiration on what to wear for spring family photos? I have dedicated an entire board on pinterest with what to wear examples and tips.
Now that you're ready to start thinking about what to wear for your spring family photos, don't forget to book your session! Spring sessions started booking in January and typically fill up by May.
My custom photography approach starts with getting to know you, and fostering a relaxed and enjoyable environment. I'm there to help with every step of the process, from location selection to wardrobe styling and gallery wall design. Each finished piece is more than just a photograph—it is fine art that will be cherished forever.
For information on reserving your own fine art family session, please get in touch and request a consultation.
Kim O'Brien Photography covers Raleigh, Cary, Durham, Morrisville, Apex, Chapel Hill, Holly Springs and the surrounding Triangle, and will also travel to clients outside the North Carolina area.