It's time for some inspiration for what to wear for spring family photos! Pin it, share it, tuck it away for our next session, or just ogle and enjoy.
For this year's inspiration I chose a color palette that was light and airy with a pop of color- it just screams Spring. Blue is always a great color because it looks good on every skin tone and compliments many other colors.
Over the years I've gotten such a tremendous response to these what to wear posts (thank you!) and have requests for a deeper explanation of my process in how I select outfits for the whole family that work. So, here goes…
I start with one piece of clothing that will inspire the entire styling, in this case it was the baby girl's romper. I just loved the blues in this floral print and the little orange tassels. It had some great texture that would photograph really well. I paired it with a neutral sandal and went straight to mom. For mom, I wanted her to be stylish but still classic so that the photos wouldn't date. This dress fit the bill and was a match to one of the blues from the baby romper. Onto brother (sorry dad, you are usually last! hehe). When I paired mom and baby girl's outfits together I was getting a dressed up/casual look so  for the boy I picked a white pair of chucks, a classic denim shirt unbuttoned and paired them with striped shorts (always in fashion) and a basic white tee. Perfect. Ok, looking good but the orange from the tassels needed to be repeated in the grouping: Dad's shirt. Done. To keep the shirt casual, roll the sleeves and pair with nice denim pants and some cool Adidas kicks. And there you have it 🙂 A good example of what to wear for spring family photos.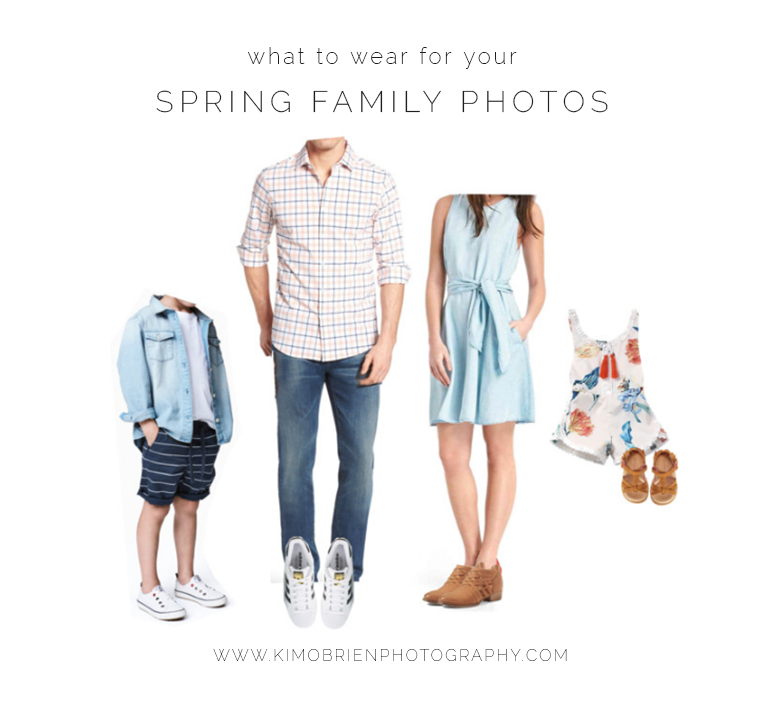 I'm not saying you need to look exactly like this. If you already have ideas, that is perfectly fine. This is meant to be used for inspiration. At the end of the day, it's really not about the clothing. I'm going to be capturing your FAMILY and that's the most important thing. So don't stress, just have fun with it!
For those interested on where I sourced the outfits, if you click the photo above, you will get prices and direct links for each piece.
Want even more inspiration on what to wear for spring family photos? I have dedicated an entire board on pinterest with what to wear examples and tips.
Now that you're ready to start thinking about what to wear for your spring family photos, don't forget to book your session! Spring sessions started booking in January and typically fill up by May.
My custom photography approach starts with getting to know you, and fostering a relaxed and enjoyable environment. I'm there to help with every step of the process, from location selection to wardrobe styling and gallery wall design. Each finished piece is more than just a photograph—it is fine art that will be cherished forever.
For information on reserving your own fine art family session, please get in touch and request a consultation.
Kim O'Brien Photography covers Raleigh, Wake Forest, Cary, Durham, Apex, Chapel Hill, Holly Springs and the surrounding Triangle, and will also travel to clients outside the North Carolina area.